Wasps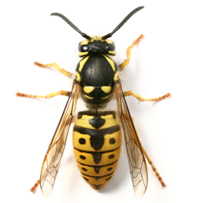 A wasp sting is a memorable experience, and although the insects do not transmit disease, they can cause severe pain and also serious allergic reactions. Unlike bees, wasps can sting many times in succession, which means they can be particularly unpleasant if trapped in clothing.
Wasps feed on insect larvae, carrion and fruits. They build nests from paper, which they make by chewing wood. This means that a wasp colony can cause significant damage to wooden structures.
A typical nest can contain 1,000+ wasps and it can be very dangerous to try and eliminate a nest without taking the right precautions because wasps will respond in numbers to a perceived threat.
Note that bee hives are a very different challenge to wasps' nests and Attack Pests can arrange relocation of a bee hive if it is a nuisance where it is currently situated.
Treatment

Your options include traps, poisons, glue boards, dust formulations & fumigation.
Get an immediate quote for wasp control. Call Giles on

07970 749 482
Fully qualified
Immediate quotation
Public liability insurance
Covering Bristol, Bath & surrounding
Available 7 days a week
Discreet vehicles
Fast & reliable 1 hour response
Food safety & pest prevention
Service agreements/contracts

We have fully integrated pest management procedures to cover the broad range of insects, birds and mammals that are likely to invade your environment.

All our work is carried out with regard to health & safety and the protection of non-targets animals. Pesticides, traps, and preventative measures are used by professionally trained and experienced staff to ensure that your infestations are identified and remedied as quickly and humanely as possible. We will also provide you with information on the best methods to prevent the pests from returning.