Environmental policies
Our environmental impact is important to us, and we always act with caution while also making positive contributions to environmental protection.
The Bristol pest controller actively participates in and helps fund a number of local projects, including the recording of birds and moths in the Gordano valley by the Clevedon moth group and a local association of birdwatchers.
We fund work on Dormice carried out by the Avon Wildlife Trust and we are developing bat-friendly techniques of monitoring and removing unwanted pests from buildings used by bats. We also have excellent relationships with beekeepers and can arrange relocation.
When you ask The Bristol pest controller to take on either a residential or a commercial job you can be sure that we will
Use minimum doses of targeted pesticides
Go pesticide-free when possible
Accurately identify a species and assess risks, avoiding unnecessary treatments
Use organic based insecticides wherever appropriate
Avoid older types of insecticide linked with health and environmental problems
Avoid excessive use of 'external baits', with their impact on local wildlife
Use local suppliers to cut down on supply-miles
Minimise the production of waste, including paper-free communications
Offset the removal of species such as brown rats and clothes moths with positive action for wildlife.
Fully qualified
Immediate quotation
Public liability insurance
Covering Bristol, Bath & surrounding
Latest news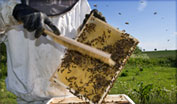 Bee relocation
Bees are continuing to disappear at an unprecedented rate and a sympathetic response to bees is important. Attack Pest Control can turn a bee 'infestation' into a great opportunity for a local bee keeper.
CALL 07970 749 482